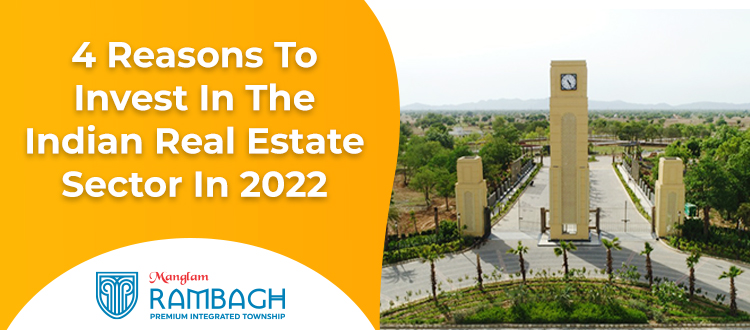 4 Reasons To Invest In The Indian Real Estate Sector In 2022
India, especially Rajasthan is emerging as the prime real estate hub. Indians have a formative mind when it comes to investing. The two prime investment options among Indians are either gold investment or real estate. However, when it comes to the active and rapid growth in investment, real estate is always prioritized. Indians from all over are picking properties like plots for sale in Neemrana as their prospective investment option. Thus, when the question arises which is the best form of investment in 2022, it is certainly real estate.
Before any investment, it is important to understand that real estate is a sector that shows growth exponentially and not in a straight graph. Real estate investment catches growth after a few years of buying and if you are ready to invest in one of the properties like plots in Neemrana, we have a few reasons why 2022 is the best time for you to invest.
 It's Perceivable
In modern times, many available investment options are not perceivable to most of us. Financial investment is one of them. However, investment in properties like plots, villas, and apartments are comparatively more attainable and are also known to be profitable.
Certainty A Secure Investment
The one thing that tops the list of Indian investors is security. Thus real estate is the best form of investment as it offers certain returns along with great monetary benefits in long term with minimal chances of failure. If you have been planning to invest in a property, a property in Neemrana can be the right pick for you.
A Great ROI
The one thing that an investor wants greatly after pouring his money into any investment is a return. Many investments offer minimal to no returns at all however, real estate is a kind of investment that offers guaranteed ROIs making them an excellent form of investment.
Jaipur and the nearby areas like Neemrana have developed multi-facedly in many sectors in past years and have risen as one of the sought cities for property investments. In upcoming years, the cities in Rajasthan will rise as a megacity with sky-rocketing property prices. Thus, 2022 will be the perfect time for people who are planning to make a real estate investment.
Manglam Rambagh is a beautifully planned and integrated plotted development that offers plots in Neemrana that are perfect for investment. They are a perfect blend of luxury, good location, as well as connectivity making them an investment of the lifetime. If you are convinced that 2022 is the year for you, book the plot that will be the key to your dreams today.