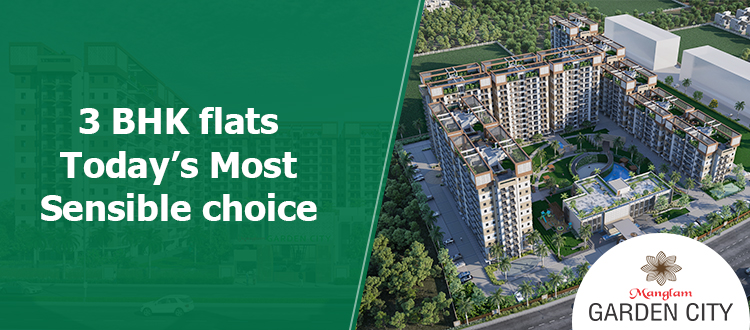 3 BHK flats: Today's Most Sensible choice
You might be wondering why you would buy a 3 BHK flat when you need a 2 BHK right now. Well, you might be thinking right for the moment, but what you are forgetting is that buying a home falls under the category of long-term commitment. You cannot think short-sighted because of that. To provide you a perspective on why you should buy a 3 BHK apartment in Mansarovar Jaipur, and not less than that here is a list of reasons:
Raising children
We often ignore the fact that to raise a child, extra space is mandatory. Children like to move around the house, they are like little adventurers who are on an exploration expedition every day. Not having enough space is only limiting their space creativity which is crucial for their brain development. As they grow more in age, they become protective of their privacy, which is why they need a space of their own that is customized to their likes and needs which can be fulfilled in a 3 BHK in Jaipur The choices in every aspect of their life may differ from their parents and to create a healthy environment it is necessary to let them have their space.
Ageing Parents
Most people have Nuclear families nowadays. People in their 30s do not realize that parents will also be living with them after a certain period. With age, there are a lot of medical issues that start to show up and they need medical attention and care. Having these points in sight a flat with less than 3 bedrooms would just not suffice.
Pandemic like situations
The pandemic that wreaked havoc in the world and forced us to stay as well as work from home put the need for a 3 BHK flat in Jaipur in perspective. Now, the culture of working from home has increased dramatically after the pandemic, which is why you need to have a dedicated space for working. You also feel the scarcity of space to work when parents and children are living with you. Even the space of 3 BHK can fall short in such times let alone 2 BHK.
Experience of Luxury Living
A space of 3 BHK apartments in Jaipur allows you to utilize the extra space for various entertainment purposes, like setting up the gym or even a studio. The extra space gives you the flexibility that you can use at your disposal.
With all these amenities at your disposal with just the addition of an extra room in your flat, do not limit your space and dream of a luxurious lifestyle. Take a leap forwards and book a 3 BHK flat in Jaipur at Manglam Garden city.